India's No.1 supplier of bell furnaces.
---
We manufacture furnaces which can be made in electrical, oil or gas firing system as per the customers requirement.This type of furnace is widely used for the following applications such as:
Spherodised Annealing of Steel Wire Rod Coils
Soft Annealing of Steel Wire Rod Coils
Black and Bright Annealing of Steel Strips.
Normalising/ Stress Reliving Of Steel Castings.
Annealing Of Copper And Aluminum Products.
Decarburising Of Stampings.

Material:

Low carbon, medium carbon, high carbon and alloy steel and bearing steel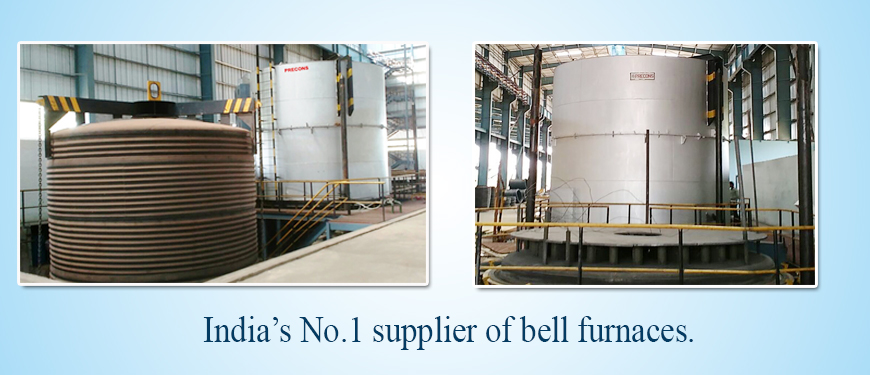 Salient Features:
Batch capacity : 5 to 30T
Atmosphere : Liquid : Hydrocarbon & ultra pure nitrogen with automatic pressure control
Option: Vacuum & nitrogen atmosphere.C
State of the art technology combined with low cost production to achieve Spheroidisation between 85% to 100% & almost achieving zero decarb.
Unique Hydro Carbon combustion system working in total auto mode system only for a very few hours (less than 2 hours ) to achieve the above specified Spheroidisation & decarb level .
Maximum temperature 800 C/850 C
Multi profile programme controller with ratio control system to achieve close temperature uniformity.
Auto programming facilities to adapt different cycles depending upon diameter – grade combination.
Provision for data logging.